The following is a presentation of The Royal Ramble!
The Showstopper, the Icon, the Main Event, Mr. WrestleMania & Mr. Hall of Fame! Who do you know that has all of these nicknames? The Heartbreak Kid, Shawn Michaels! In my eyes, HBK was the greatest wrestler to ever step foot inside the squared circle! No one will ever come close to just how great HBK really was. I'm here to countdown his top ten matches in my eyes. Let's not wait anymore! HERE WE GO!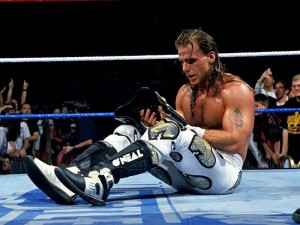 10. Shawn Michaels vs Undertaker – Badd Blood '97, Hell in a Cell
One month before this match, HBK and the Undertaker wrestled at the Ground Zero PPV to a no contest. This match was a #1 contender's match for the WWE Championship and was the be all, end all match, as it was the first ever Hell in a Cell match. This would turn out to be a violent and brutal match. Taker would control the first half of the match as HBK looked scared of him at first. Then, HBK turned it up and took over control. HBK was thrown to the outside and hit a cameraman on his way down. Officials tried to get the cameraman out but in doing so, HBK & Taker started to fight there way to the outside of the cell. Taker would then slam HBK into the cell and HBK got busted wide open. The two then continued to fight to the top of the cell. HBK look like he was running away from and tried to climb down on the announcer's table side. As HBK was climbing down, Taker stomped on his hands and HBK fell through one of the announce tables. HBK looked to be done and they both go back into the ring. Taker looked like he was in line to become the #1 contender but then the lights go out. Kane makes his debut and tombstones Taker, thus HBK crawls over and covers Taker for the win! This would go on to step the infamous Montreal Screwjob and change the WWE forever!
09. Shawn Michaels vs Stone Cold – WrestleMania 14, WWE Championship
This was supposed to be HBK's last match ever due to a severely injured back. The match was almost very hard to watch in the sense that any wrong move and HBK could have been seriously hurt. The faces that he made during the match shows the pain he was experiencing on every bump he took. The finish of this match was classic, as it was the passing of the torch to Stone Cold. Just the way HBK put his body on the line for one last great match just proves he was the Showstopper!
08. Shawn Michaels vs Mankind – Mind Games '96, WWE Championship
What a brutal match this was with both men looking like they really wanted to hurt each other. HBK looked like he wanted to break Mankind's knee during the match but this match showed how crazy Mick Foley was. The match was very back and forth but also very violent for the WWE at this time period. HBK delivered one of my favorite Sweetchin Music's ever when he used the chair to kick Mankind who was on top of the turnbuckle. I loved the way he did that. This was one of the first matches that showed the WWE taking a turn into the more mature wrestling as this match was not for kids in anyway.
07. Shawn Michaels vs John Cena – WrestleMania 23 Rematch on RAW
In my eyes this is John Cena's best match. Actually maybe tied with CM Punk's match but this match showed that HBK deserved another title run. I always wished this was a championship match, just so HBK could hold the title once more. This should have been the match they should have put on at WrestleMania 23! The back and forth action was great but to actually see HBK get put over Cena was awesome! This was right when the crowds had begun to really dislike Cena and HBK coming out on top was awesome! I had hope that maybe he would go on to win the title in the future but I was wrong.
06. Shawn Michaels vs Kurt Angle – WrestleMania 21
Going into this night, I knew that this would steal the whole damn show! I wish these two continued there feud a little while after WrestleMania but because this match was epic and amazing. The build up for this match was fantastic as HBK eliminated Angle from the Rumble. Angle would get back in the ring and screw over HBK, thus the rivalry is born! It seems like this was one of the last great feuds in the WWE up to now. The match started and ended in classic storytelling fashion! I knew Angle was probably going to win but HBK giving it his all as he always does is what made this match special. The dive to the announcer's table, the Sweetchin reversals, and ankle locks applied in match were picture perfect! The match was easily the best of the year and was Angle's best match in my eyes!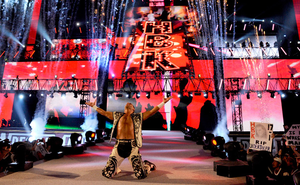 05. Shawn Michaels vs Razor Ramon – WrestleMania 10, Ladder Match, Intercontinental Championship
The first ladder match in WrestleMania history was one we would never forget. Two titles hung above ring as they belonged to Razor and HBK but only one would come out as the Undisputed Intercontinental Champion! I forget who said it on HBK's DVD but it's true, HBK went out there and had a match with the ladder. For that time in wrestling, it was one of a kind and nothing we have ever seen before! The bumps these two were taking were amazing and had our eyes glued to the TV. No wrestling fan will ever forget the splash HBK took from off the ladder to Razor. That image will remain as one of the most important images in WWE history. The reason why is because this match made Shawn Michaels, Mr. WrestleMania and this really showed that he was ready for the main event! This was the first night he stole show and he never looked back after it! The Showstopper had arrived!
04. Shawn Michaels vs Chris Jericho – WrestleMania 19
What a dream match this was for Chris Jericho! Y2J gets to wrestle his idol and to me that's just amazing! This was HBK's first WrestleMania since returning from his back injury and what a WrestleMania to return to! Hands down this night was one of the best WrestleMania's in history and this match was the best of the night! It was a celebration of a night as HBK returns to WrestleMania with a classic of a match! Y2J at this time was the best heel in my book and should have had another title run after his first. But I don't want to go off topic lol. The finish to the match was epic with HBK hitting the roll up to win! HBK extending his hand for a handshake but Y2J hugs him. But out of no where, Y2J low blows him and HBK slides drops to his knees looking up at Y2J with an expression on his face like "why?!" Y2J gives an evil smile and shoves him down. It was just a great way to get to end a great match.
03. Shawn Michaels vs Undertaker – WrestleMania 25
Now, a lot of people will probably think that this should be number one or two but to me, this is his 3rd best! The build up to this match could have been better but in the end we saw an amazing match! We all knew we weren't going to be disappointed but I think a lot of us weren't expecting this! At one point I thought the Undertaker was seriously hurt due to the camera man missing his spot but I popped out of my seat when that happened! I couldn't sit still because I wanted HBK to beat Taker so bad! In my eyes if anyone should end the streak, I think HBK is the most deserving to do so. I don't want anyone else to do it but HBK. When Taker hit the first Tombstone, I thought for sure the match was over but thank God I was wrong! The crowd went crazy, Taker had a far away look in his eyes and I couldn't believe what I was seeing! Then, HBK hit the Sweetchin Music and I seriously thought it was over but I was wrong and my heart was beating so fast lol. Taker would go on to win the match but the back and forth finish was amazing! The best WrestleMania match in the last ten years!
02. Shawn Michaels vs Triple H – SummerSlam '02, Street Fight
This is a match I never thought I would see in my life when this happened! I will never forget where I was when HBK said he was going to be fine by SummerSlam. I was 11 years old then and jumped up and looked my friend and said no f*cking way lol. I knew how bad he hurt his back and I never thought he would wrestle again. The story behind this match is the best in WWE history in my eyes! The build was picture perfect! The crowd for this night was amazing and was well deserved for HBK! It was a celebration as the greatest of all time has returned and the confetti was awesome! The match was amazing as I can't believe it lived up to the hype it got! What was so amazing about this match was the sole fact of how it looked like HBK never missed a step and showed no ring rust at all! This match proves that he is the greatest wrestler of all time! The ending was amazing and the crowd ate it up! Triple H being a great heel that he was, would attack him with the sledge hammer after and I thought the crowd was going to kill him. In the end we witnessed the return of the Showstopper and the resurrection of his career and life!
Before we take a look at number one, let's see some honorable mentions.
Shawn Michaels vs Marty Jannetty – RAW, Intercontinental Championship
2002 Elimination Chamber Match
Shawn Michaels vs Triple H – Royal Rumble '04, Last Man Standing Match, World Heavyweight Championship
1995 Royal Rumble Match
Shawn Michaels vs Shelton Benjamen – RAW
Shawn Michaels vs Undertaker 2 – WrestleMania 26, Streak vs Career
Shawn Michaels vs Ric Flair – WrestleMania 24
Ok and now it's time for number one!…..
01. Shawn Michaels vs Bret Hart – WrestleMania 12, Iron Man Match, WWE Championship
Still to this day, this is my all time favorite match of all time! This was the first PPV I ever bought and this was the first match I really ever sat through and watched the whole thing! My eyes were glued to the TV for about over an hour as witnessed the best wrestling match in the history of the WWE! The match was so back and forth, so incredible and amazing! This match is the reason why I am such a huge wrestling fan! If it wasn't for this match I would not be into wrestling probably at all! With a one time limit to score as many pin falls or submissions as possible to win, we saw zero! We watched as they went into an epic sudden death for the title! HBK pulled out top and still to this day in my eyes, this was the best title celebration I have ever seen! A very emotional HBK praising the title and hearing Vince saying "The boyhood dream has come true for Shawn Michaels!" was the best ending to a WrestleMania ever! This was the birth of the Icon, the Legend, the Main Event, the Showstopper & the greatest champion to ever step foot into a WWE ring!
Shawn Michaels had one hell of the career and he is one of the few wrestlers that can actually live up to all of the nicknames he has! HBK is in a class of his own and I doubt we will see anyone come close to being as good as he truly was. He is the Michael Jordan, Wayne Gretzky, Brett Favre, Pele of pro wrestling! Shawn Michaels is the greatest pro wrestler to ever wrestle period!
Please check me out on Twitter @The_RoyalRamble and my website at www.bodyslam.lockerdome.com. Thanks for reading, more will be coming soon. I am Trick and this has been the Royal Ramble!